The Suzuki Alto is a hatchback found in 3-door and 5-door variants. Originally the Suzuki Alto was a 'kei' car, (also known as a "city car" in Europe) very small and powered by a 760 cc engine. It was originally introduced under the Fronte badge, but exported under the Alto badge.
The first generation (SS30V/40V), was introduced in May 1979. 30 years later, and now in its 8th generation, it has become a favorite in Kenya, when it comes to city cars. In fact, the Alto is one of the most popular taxi cars in the country, mostly due to its fuel efficiency and reliability.
While most city cars rank higher in terms of aesthetics, the Alto stands out in terms of functionality, efficiency, and overall performance.
Many might consider it to be a basic car, but the Sukuzi Alto boasts plenty of features in the interiors that include an electronic power steering, a modern air coolant, and fitting cup holders. It also comes with beautiful fabric seats, a moulded carpet, a luggage compartment carpet, a cabin lamp, a floor front and rear console, a glove compartment, and front door pockets.
The Alto also has a ton of safety features and handles very smoothly despite its very affordable price. There are side-impact door beams, a child safety lock, clear lens headlamps, rear caps, a collapsible steering column, a high rigid monocoque frame made of high tensile steel, front and rear seat belts, booster assisted brakes, and rear-seat head restraints.
The car balances so well on the road and is comfortable to ride in. The tough suspension absorbs all the bumps, making it comfortable to ride in even on the rough Kenyan roads. If you are one of those people who love compact, sleek and efficient cars, then the Suzuki Alto is a great choice to consider.
The Alto comes in various variants for different markets, but the most popular in Kenya are the: Maruti Suzuki Alto Standard, Maruti Suzuki Alto LX, and Maruti Suzuki Alto LXi.
The latest model of the Suzuki Alto is still very much available for purchase in the automobile market in Kenya. They can be gotten directly from the Manufacturer or local and international distributors. A brand new Suzuki Alto can be acquired for between KSH 1 million – KSh1.5 million depending on the trim, model, and period of purchase.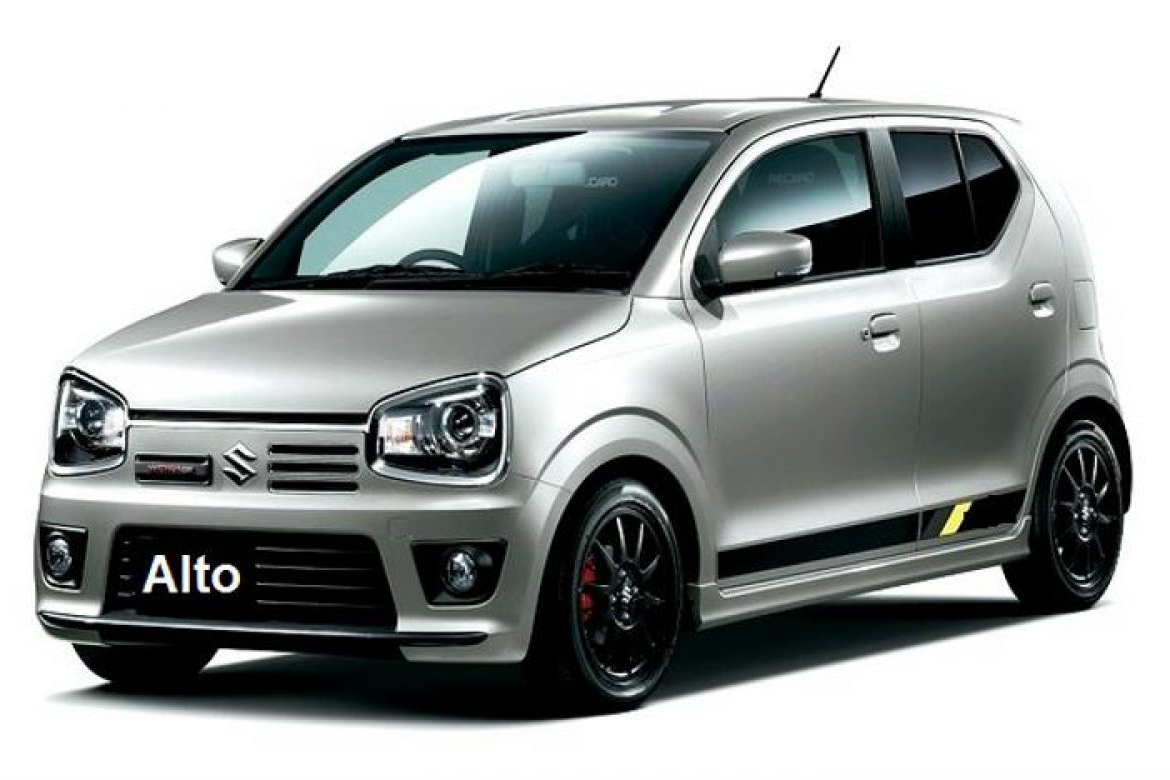 Foreign Used Suzuki Alto in Kenya
2015 & 2016: KSH 500, 000– KSh600, 000
2017 & 2018: KSH 550, 000 – KSh650, 000
2019 & 2020: KSH570, 000 – KSh680, 000
Locally Used Suzuki Alto in Kenya
2009 & 2010: KSH 350, 000 – KSh400, 000
2011 & 2012: KSH 370, 000 – KSh500, 000
2013 & 2014: KSH 450, 000 – KSh550, 000
Suzuki Alto Main Specs:
Number of Seats: 4 seats
Drive Type: FWD
Engine Capacity: 600- 800 cc
Maximum Power: 54 PS or 53 bhp
Fuel Consumption: 22-37Km/L
Acceleration: 0-100Km/hr in 16 secs
Tank Capacity: 35 Liters