Who We Are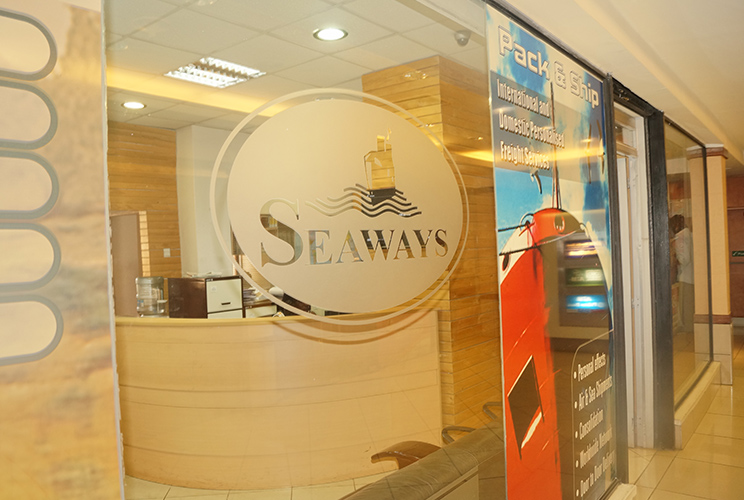 Seaways (K) LTD is a leading freight forwarder and custom broker in Kenya with a dynamic presence across East Africa.
Since 1987, we have provided our customers with flexible, quality and reliable logistic solutions that have set us apart from our competitors. Our motivated customer-focused employees apply their local knowledge and expertise to every operational challenge building strong, personalised relationships with the customers they serve.
What We Do
We offer 25 years of experience and expertise in the following services:
Freight Forwarding
Move your cargo with ease
Move your cargo across towns, countries and continents. With our efficient and affordable air & sea freight service solutions
Customs Clearance
Streamlined approach to customs clearance
We have developed a streamlined systematic approach to customs clearance that ensures we reduce the risks, errors and costs that come with customs laws and tarrif compliance. Our customs experts are always on stand by to keep you up to date with the latest government regulations and changing compliance laws.
Pack & Ship
Delivering your goods with speed and care
Seaways is committed to delivering your shipments and cargo with speed and care. From Parcels. Air-freight and Sea-Freight to overland deliveries. We offer an all inclusive, multimodal  transport solution that would ensure your cargo gets to the final destination in record time and at the best price
Car Importation and Related Logistics
25 years of delivering high quality cars
For over 25 years we have perfected the act of delivering quality cars that offer real value for money. Let us help you source, ship and deliver the best car for the best deal.
Industry Customized Logistics
Move your cargo with ease
Different industries have different logistical needs and procedures. Show us your business and we would tailor make our solutions to meet your industry standards
Multimodal Transportation
We deliver your consignment by all possible transport means
Whether by air, sea, road or rail,  we will get your consignment wherever you need it to be by all means.
Launch of Gari Moto Portal

Seaways Launches the Gari Moto Portal that helps East African car Importers calculate tax , manage & track clearance & delivery for their cars.

Seaways Helps Set up Mobile Clinic in Kajokei Sudan

Seaways helps ship, clear & deliver pre-fabricated containers used as Mobile Clinics in Kajokeji Sudan

Seaways supplies logistics service to Sudanese Government

Seaways supplies and delivers 40 Landcruiser hardtops to 4 ministries in the Sudanese Government inclusive of the Sudanese Parliament

Office Relocation

Seaways Relocates its head office from the City Centre in Nairobi to Yaya Centre

Shipping & Freight Services Added

Seaways opens up its Shipping & Freight Services. Forming a strategic alliance with Transworld Shipping in UK to open its market and handle shipment of goods from UK.

Mombasa Branch Opened

Seaways Opens up a fully fledged branch in Mombasa at Ambalal Hse Parking tower

Transformation to a Litmited Company

J.Babu & Company changes status from a sole proprietorship to a limited Liability company with the name changing to Seaways (K) LTD

Application of Customs Agents License

J.Babu & Co apply for Customs Agents License which would enable them directly handle the clearance of goods from Mombasa Port. This process took 1 year with the License later being issued in 1993.

Breakthrough Consignment

Mr. Joshua Babu lands his first huge consignment to ship in 4 reconditioned Nissan Sunny Saloon cars

Starting Out

Mr.Joshua Babu begins his first venture into business while still in college studying Commerce and Accounting . As a student with very limited resources at his dispoisal, sole proprietorship was the easiest and most cost effective form of business to start with. J.Babu & Co was thus founded with the main aim of assisting clients sell their used cars in return for commission.